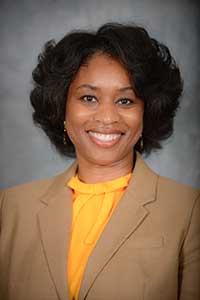 The City Manager serves as the Chief Administrative Officer for the City and reports to the Mayor and City Council. The City Manager is also responsible for managing the overall operation of all city departments, and ensuring that the charter, laws, ordinances, and resolutions of the City Council are enforced and implemented.
ABOUT THE CITY MANAGER
Shawanna N. Qawiy, MPA, MSCM
City Manager
Ms. Qawiy was appointed to serve as the City's Planning and Development Director in 2016.
Ms. Qawiy brings extensive experience in zoning, code compliance, comprehensive planning land use, transportation, and strategic planning, along with budgeting, economic development and project management.
Prior to joining the City of Clarkston, Ms. Qawiy was a Senior Planner in the Long Range Division with DeKalb County, Georgia, where she assisted  and served as project manager of several implemented plans and studies including the service delivery strategy and the county's first comprehensive transportation plan.
Ms. Qawiy currently serves as a member of the American Planning Association and the International City and County Managers Association-ICMA, where she has been accepted into the prestigious two-year Leadership-ICMA University, as the only participant from the State of Georgia
While serving as Planning and Development Director, Ms. Qawiy has played a major role in the City's strategy to support the residents and future residents of the state's most diverse community, along with the on-going work of enhancing organizational efficiency and effectiveness through improving departmental processes.
Ms. Qawiy holds a Bachelor's degree in Mass Communications from Clark Atlanta University and has earned Master's degrees from Albany State University and Kennesaw State University.
On June 7, 2022 , Ms. Qawiy was unanimously appointed the new City Manager for the City of Clarkston. With her leadership, she provides extensive municipal government, financial management, and planning & economic development experience. She is dedicated to working with city council, staff, and the wonderful residents to enhance the quality of life in Clarkston. 
Contact information
Shawanna Qawiy
Email: sqawiy@cityofclarkston.com
1055 Rowland Street
Clarkston, Georgia 30021
Phone: 404-296-6489
Hours: Monday–Friday, 8:30am-4:30 pm