Name:  Dorothy Roper-Jackson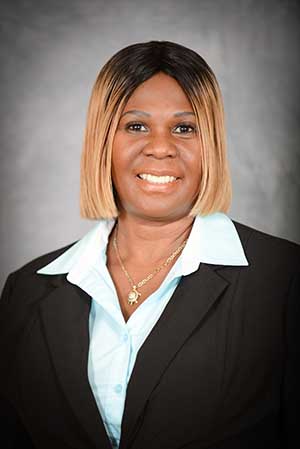 Position Title:  Chief Court Clerk
Dorothy Roper-Jackson was promoted to Chief Court Clerk effective January 7, 2019, after the retirement of Shirley Green. Ms. Jackson has worked for the Clarkston Municipal Courts since April 2015 as the Deputy Court Clerk.  
Ms. Jackson migrated from Jamaica to the United States in 1992. Prior to migrating to the United States, Ms. Jackson worked within the United States Embassy in Jamaica as a Legal Assistant. In April, 2015, Ms. Jackson was hired to serve in the capacity as a Deputy Court Clerk for Clarkston Municipal Court/Police Records.
Ms. Jackson is an accomplished individual with combined 35 years of experience in the criminal justice system, and law enforcement institutions. Before joining the Clarkston Team, Ms. Jackson worked as a Criminal Court Clerk in the Clerk's Office of Broward County, and was quickly promoted as a Judicial Assistant in the 17th Judicial Circuit Court of Broward County, Florida. Ms. Jackson moved to Georgia in 2006, worked as a Records Clerk, then promoted to Records Clerk, Sr. /Officer in Charge in the Records section of DeKalb County Police Department
Ms. Jackson is presently a member of Georgia Records Association, and Georgia Municipal Court Association. Ms. Jackson is certified to classify Fingerprints, certified as a Municipal Court Clerk and Terminal Agency Coordinator (TAC).
Ms. Jackson holds a Bachelor's degree in Criminal Justice Administration from University of Phoenix, and a Master's degree in Forensic Psychology from Argosy University.
Contact information
3921 Church Street
Clarkston, Georgia 30021
Email: Dorothy Roper-Jackson
Phone: 404-292-9465
Fax: 404-298-1522
Hours: Due to Covid-19, Walk-in Hours are Tuesdays and Thursdays 10:00 am to 2:00pm