Clarkston News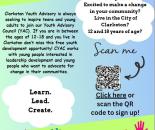 Clarkston Youth Advisory is always seeking to inspire teens and young adults to join our Youth Advisory Council (YAC). If you are in between the ages of 12-18 and you live in Clarkston don't miss this free youth development opportunity!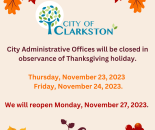 City Administrative Office will be closed in observance of the Thanksgiving holiday.Thursday, November 23, 2023Friday November 24, 2023We will reopen Monday, November 27, 2023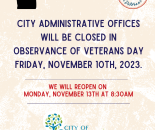 City Administrative Offices will be closed in Observance of Veterans Day, Friday, November 10, 2023.  We will reopen on Monday, November 13th at 8:30AM.