Waste
Refuse (regular household trash) is picked up on Mondays, except for Holidays, click here to view  Waste Management schedule & enter zip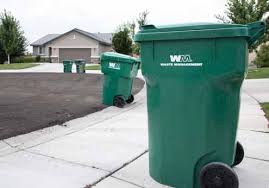 30021
No refuse should be placed at the street for pickup until 5:00 PM on the Sunday prior to the Monday pickup. (City Ordinance Article 5, Sec. 19-73)
NOTE: Any refuse placed at the street for pickup by Waste Management before the weekend is subject to collection by Public Works. The resident at the location will receive an invoice covering the cost when this special pickup is required.
Household Hazardous Waste (HHW) Disposal
Household Hazardous Waste (commonly referred to as HHW) are common household items like batteries, light bulbs, cleaners, paints that should be disposed of separately from regular trash and wastewater sewer system. For more information regarding disposal of HHW, click here.