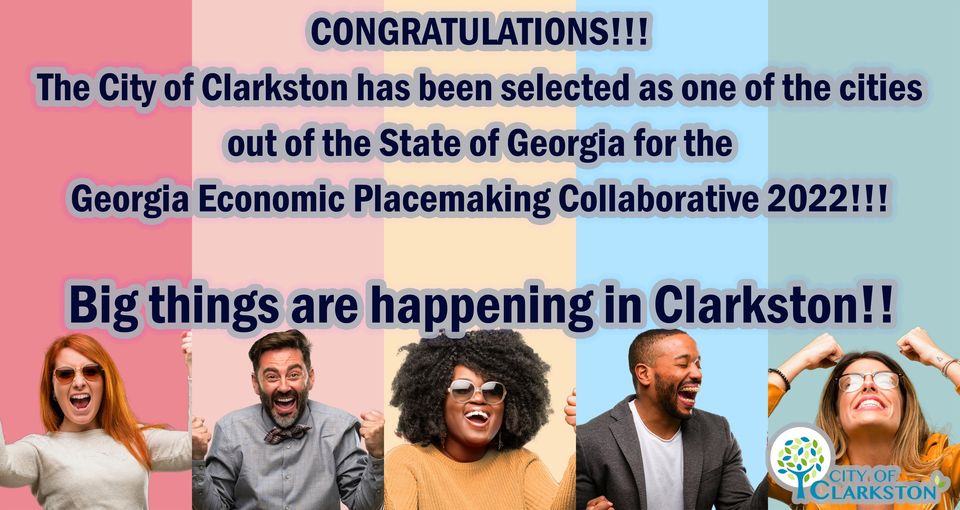 NEWS RELEASE                                                                                                                                                 Post Date: April 5, 2022  3:30PM
For Immediate Release
Contact:
Sadie Krawczk, Managing Director, Georgia Forward and Placemaking
678-528-0938
skrawczyk@gacities.com

Amanda Coyne, Communications Associate
678-538-3794
acoyne@gacities.com

                                                    GMA Names Clarkston to Georgia Placemaking Collaborative 2022
Clarkston, GA -The Georgia Municipal Association (GMA) and the Georgia Cities Foundation (GCF) recently named Clarkston as one of the freshman communities in the Georgia Placemaking Collaborative's 2022 program.

GMA and GCF joined the Georgia Department of Community Affairs, the University of Georgia's Carl Vinson Institute of Government, Georgia Conservancy, Electric Cities of Georgia, and Georgia Power to help selected cities develop durable, local partnerships to address their most important economic and quality of life issues. Each city team is comprised of representatives from city and/or county government and a broad group of key stakeholders from the public and private sectors in their immediate community.

"Attracting and retaining talent is critical for Georgia to prosper in a knowledge-based economy, and placemaking can serve as an effective economic development tool to draw talented workers and entrepreneurs," said GMA Executive Director Larry Hanson.

Largely modelled after the Georgia Initiative for Community Housing program, the collaborative consists of a two-year program with two retreats per year. These retreats are a critical component of the Georgia Placemaking Collaborative. During the retreats, participants will receive training from expert presenters, along with facilitated work sessions and networking opportunities with other communities.

This collaborative seeks to bring or restore prosperity through the creation of a community and economic development strategy. These strategies will capitalize on local assets to create healthy, appealing, and unique places for people to live, work and play. The Spring Retreat will be conducted on May 5 in a virtual format. For more information about the Georgia Placemaking Collaborative please contact Sadie Krawczyk at 678-528-0938 or skrawczyk@gacities.com.

About the Georgia Municipal Association: Based in Atlanta, GMA is a voluntary, non-profit organization that provides legislative advocacy, educational, employee benefit and consulting services to all of Georgia's 537 cities. GMA anticipates and influences the forces shaping Georgia's cities and to provide leadership, tools and services that assist municipal governments in becoming more innovative, effective, and responsive. Created in 1933, the Georgia Municipal Association (GMA) is the only state organization that represents municipal governments in Georgia.
For more information, visit www.gacities.com. About the Georgia Cities Foundation: The Georgia Cities Foundation seeks to assist cities in their community and economic development efforts to revitalize and enhance underserved downtown areas, by serving as a partner and facilitator in funding capital projects, and by providing training and technical assistance. The foundation was originally established in 1999 by the Georgia Municipal Association as a 501(c)(3) organization. In December 2010, the Foundation was designated as a Community Development Financial Institution (CDFI) by the United States Department of the Treasury's CDFI Fund.
                                                                                             ###