Clarkston received a grant from the USTA in 2011 that allowed for the repair and resurfacing of the two existing tennis courts, to convert them into one court with four 36-foot permanent courts and one 78-foot court with 60-foot blended lines.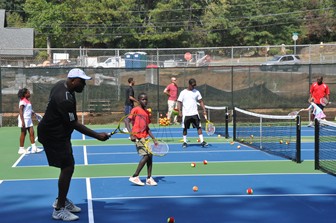 Clarkston is the first in the country to have completed this conversion. The USTA's '10 and Under' Initiative allows kids to learn how to play tennis, and most of all, to have fun doing it. It incorporates the "Quickstart" format of playing. It uses rackets, balls, and courts that are sized just right for children so they can adjust to the game right from the start.
Programs offered
Through a partnership with the Atlanta Youth Tennis Foundation, Clarkston markets and advertises Play Days, Tennis Festivals, Lessons, Match Skills Play, Parent-Child events, and USTA Junior Team Tennis—all for kids. To find out about their activities contact Sam Kennedy, Director of Community Outreach Programs, at 678 640-7318 or email satennis@gmail.com.