Our Shop Local initiative is to create a vibrant, prosperous and resilient local economy for all Clarkston businesses. During the year we will showcase shop local campaigns that will allow shoppers to connect with local businesses. We love our local businesses and want to support them. The following is information on how to support them: 
How to Support Local!
Participate in the our shop local campaigns this year:
 LOVE OUR LOCALS GIVEAWAY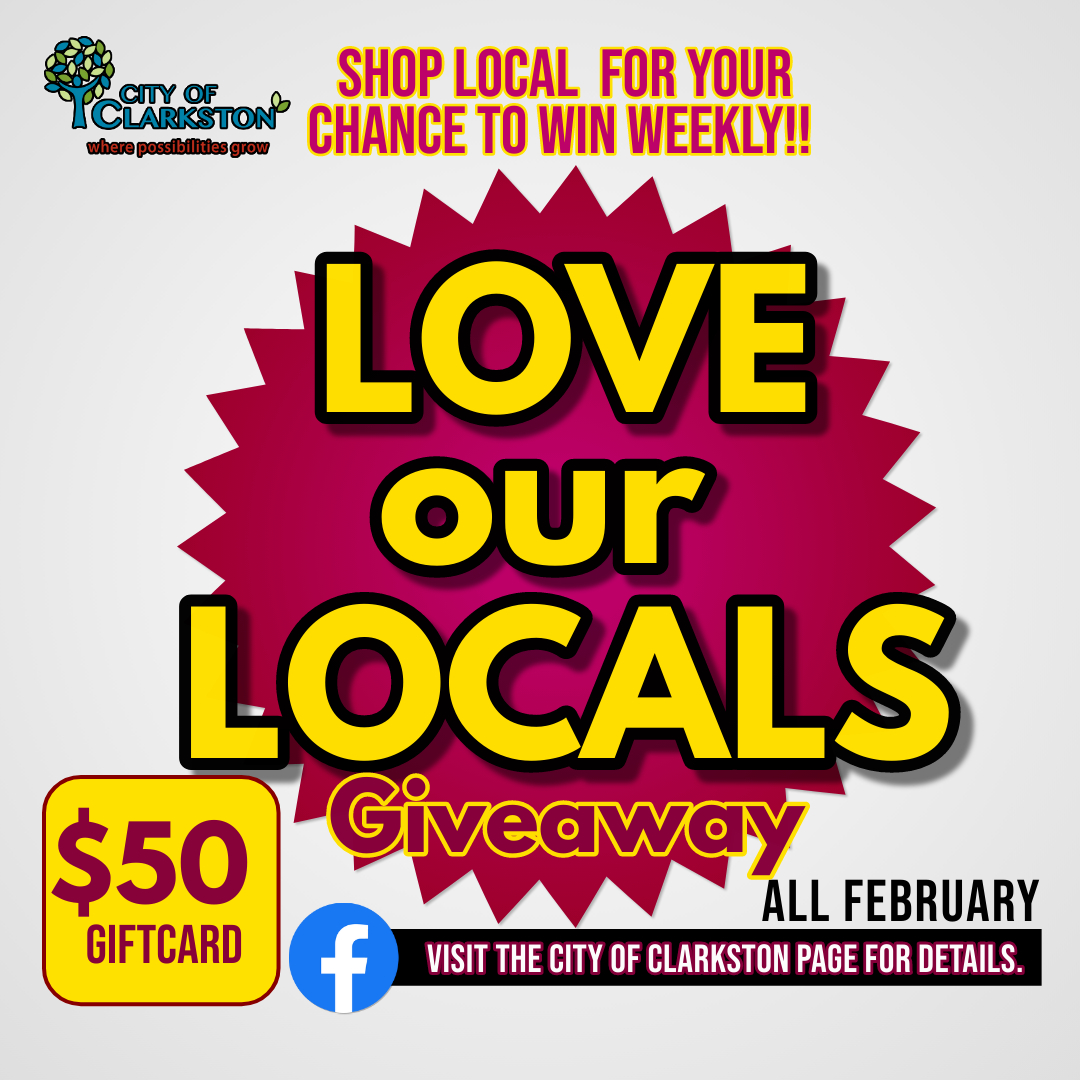 When? February 1st-24th
How it Works:
Collect & Turn in Your Receipts!
•Eat, drink, and shop local anywhere throughout the City of Clarkston.
•Submit a copy of your receipt(s)
•Each receipt turned in gives you one entry into the weekly prize drawing!
Weekly Prize Drawings
February 3rd, February 10th, February 17th, February 24th.
•One winner will be drawn every Friday to receive $50 gift card. (Winner will be announced via City's Facebook Page & website)
•Entries will remain in the drawing until chosen. The more places you spend local, the more chances you have to win!
NO CHAIN STORES, ONLY SMALL LOCAL BUSINESSES! 
Click here to Submit Receipts:
https://www.cognitoforms.com/CityOf.../LOVEOURLOCALSGiveaway
FEBRUARY RECEIPTS ONLY WILL BE ACCEPTED!!
Weekly winner will be announced via website and city's facebook page. 
Shop Local (Community Connection )
When? April 1st-30th 
What is it? A fun way to increase awareness of local shopping and to demonstrate a sense of pride and community connection for small businesses.
How it Works: Posters are provided by the city to distribute to local businesses to display in their windows or location they desire. The city will also provide shop local buttons for interested businesses to give to their customers. Businesses and customers may share pictures on social media to promote local shopping. 
SHOP SMALL CRAWL
What is it?
Put your money where your heart is and help support our local businesses by shopping locally. and shopping small.
Shop Small Business Crawl is a fun way to encourage shoppers to visit some of the unique small businesses in our area and support them through patronage.
When is it? Coming this fall. 
How it works:
Pick up your passport/map at the first participating business you visit. (Inform them that you are participating in the Shop Small Business Crawl when making your purchase.) Each participating business will provide you a stamp after a purchase (1 stamp per business only).
Collect all valid stamps and turn in your passport in-person or email a photo of your completed passport with contact information included on passport to enter to win the GRAND PRIZE.
Entries for sharing on social media!
Hashtag #shopsmallbusinescrawlclarkston and tag Facebook: CityofClarkstonGa/ , Instagram: @cityofclarkstonga) to share photos while you are crawling and gain one (1)  additional entry.
ONE(1) winner at random will be chosen from the valid submitted passports to win the Shop Small Business Crawl Grand Prize!
Prize:
Grand Prize:$150 in local restaurant gift cards.